Coast Inn During Smith Family Ownership
<! ========= Cool Timeline PRO 2.5 =========>

Coast Inn After Smith Family Ownership
<! ========= Cool Timeline PRO 2.5 =========>

Coast Inn Sold to Sidney Bryan
Sidney Bryan (Coast Inn Management Corp.) purchases the Coast Inn establishment from the Smith Hotel Company (Dick, Karl, Bernard, Bob & Betty) releasing the Lessees Dick and Karl Smith.  I do remember dad saying how tired he was.  He worked the shift till 2:00 am for years.  He and Karl were both more then ready, age 66/65, to retire.
It is under Sid's ownership that ads were used carrying the name "Boom Boom Room" forward.  Sid eventually changed the menu naming the popular burger "Boom Boom."  Sid worked along side his mom and sister, Becky, carrying on the family ownership style of management while highlighting community spirit as did my family.  He continued to cater to the already established clientele of locals and businesses in town while encouraging the gay community to enjoy the South Seas Bar now known as the Boom Boom Room.  Sid contracted with Morris Skendarien to enhance the dance floor.  He also added the colorful painted tile that is close to the entrance of the office upstairs.  Sidney figures it wasn't until 1984 or so, some 6 years after his purchase, that he notes the Coast Inn is now predominately a gay community.  See his letter below.
NOTE: Karl & Dick carried the NOTE for Coast Inn Management Corp that was paid in full 5-18-1988.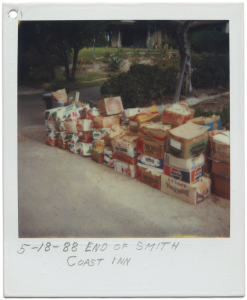 Sold To John Halderman
John Halderman (JTC Laguna Resorts) purchases The Coast Inn from Sidney Bryan (Coast Inn Management Corp.).
Note: $169,000 note is transferred from Sidney Bryan to JTC Laguna Resorts as my parents, Dick and Pat Smith, are carrying this note. This NOTE is a separate and second NOTE.  The first NOTE was paid off in 1988, which was between Dick, Karl and Sidney.  The second NOTE was between Dick & Pat and Sidney that carried over to John with some renegotiations.  John paid back my parents in full in 1996.
To me, this is another great example as to how my family ran their business throughout the history of the Coast Inn.  Dad was 83 by the time he was fully released from any financial ties to the Coast Inn.  He continued being available for support, encouragement and great chats however until probably within a short period of his passing in 2006.  Pete remembers his last meal in the Boom Cafe and, even though Dad was in a wheel chair, Pete offered to take him upstairs for one last look around.  Dad was nearly 93 years of age when he passed.
Nabil Rayes Purchases Coast Inn Liquor Store
Nabil Rayes purchases the Coast Inn Liquor store from Sidney Bryan (Coast Inn Management Corp.).
Last and Remaining Employee of The Coast Inn
Pete Mihalek was hired by John in 1998 as the laundry worker.  As the years roll on and under the 5 different owners, Pete is now operations manager.  Many of us have no idea as to the mountain of tasks that Pete performs.  No one, including myself, has any idea just how complex the inside is after years of changes.  Just one change Pete mentions is the telephone wires to each room.  The most important is the plumbing and electrical system.  The Smith family usually had someone like Pete, who works with his heart making sure the details are dealt with correctly to keep this very old building in running order.  Pete loves the Coast Inn and I love talking to Pete.
Sold To James Marchese & Patrick O'Laughlin
James Marchese and Patrick O'Laughlin (Boom Boom Resorts Corp.) purchased the Coast Inn establishment from JTC Laguna Resorts.
The restaurant known as the Coast Inn restaurant is now changed to the Boom Cafe.  James managed the restaurant and played an excellent host.  Dad and I ate their often, both dinner and breakfast.  Yummy food.  We always looked forward to our conversations with James who loved the Smith history.  This was such a well deserved compliment for Dad.  If he wasn't too busy as host, James would sit with us.  James confided in us he wanted to see if he could patent the name "Boom Boom Room" and open up other establishments.
I think what I loved the most about these owners were the love of our hotel.  They were so complimentary and respectful of my dad.  I was glad to see the community spirit still flowing everywhere, which I was accustomed to seeing even as a young girl.  Thus my heart felt full.  I was sad to see these owners go.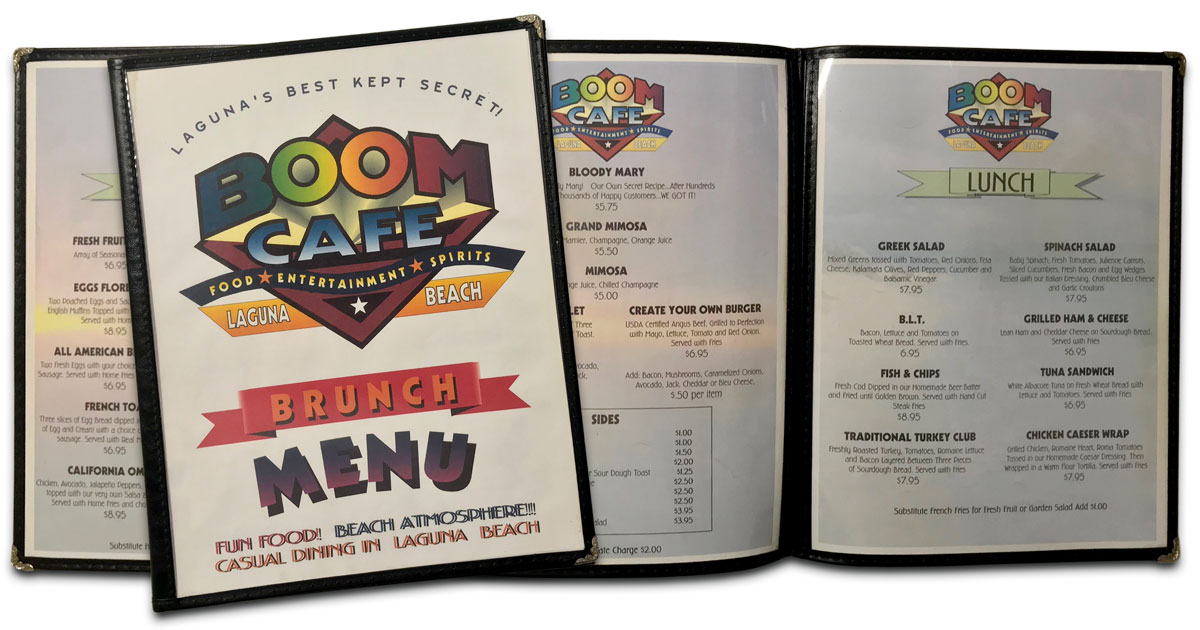 Sold to Carey Glen & Partner
Carey Glen & Partner, Main Beach Reality, purchase the Coast Inn establishment from James Marchese and Patrick O'Laughlin, Boom Boom Resorts, Corp.
Note: Carey Glen & Partner only owned the Coast Inn for 6 months.
I never met this new owner; everything moved pretty quickly with another sell 6 months later.
Sold to Steven Udar-Hazy
Steven Udar-Hazy purchased the Coast Inn establishment from Carey Glen, Main Beach Realty.  He also purchased the liquor store from Nabil Rayes.  Nabil Rayes continued on to manage his store till he retired in 2015.
I was invited to meet with the architect, Morris Skenderian, and the new owner, Steven Udar-Hazy, which began our 5 year journey together.  Morris was very eager and up for the challenge to remodel my family's old but faithful hotel, keeping true to the historic structure.  What took my grandfather about 6 months after he purchased the land to construct a finish building took all of 5 years for Hazy to finally get full approval in order to even begin construction.  I don't even know how to compare the costs to get to this point.  Permits, plans, meetings, decisions.  And then to build.  It cost my grandfather $20,000 in 1929 to build the original structure.  And the potential cost just to remodel?  This 5 year process wasn't easy and met with objections, etc.  Hazy met with and satisfied the neighbors, the city process as well as the coastal commission.  I was also happy with his plans.
The city and Steven Udar-Hazy had noted the significance of the gay community and decided on honoring their time at the Coast Inn with a plaque along with the Smith ownership.  At the last city council meeting, it was agreed upon by the owner Hazy and the city to include building a wine bar instead of an area designated as commercial.  The article below tells how the meeting went as some people attending this meeting wanted to honor the period of time of the gay community as the "oldest longest continuous gay bar in the Western United States".  Kelly Boyd, our current Mayor for the year 2018, is quoted and gives a good look at Laguna's gay history.  The next article supports what Kelly says at this meeting.
Due to unforeseen circumstances, Steven Udar-Hazy had to sell.  He sold to Chris & Marcella Dornin in 2013.
Below are the architect plans Hazy settled on through his process that took 5 years to reach approval.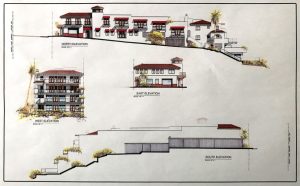 Boom Boom Room Shuts Its Doors
Boom Boom Room reluctantly shut it's doors.  Since 2005 Patrick O'Loughlin had continued to manage the restaurant, bar and hotel for the current owner Steven Udar-Hazy.  Now only the hotel and the Coast Liquor store remained open.
Dad passed at age 92, two months shy of 93, and a year before this closure.  We honored him with a large memorial at Tivoli Too.  Retired Chief Spreine hosted the event for us in honor of dad as one of Laguna's first of three police officers.  Dad's four adult kids gave the city police department his police badge at this time.  It hangs proudly upstairs in the Police station.  The next day, family, who flew and drove in from afar, met at the Coast Inn for one last breakfast.  The Boom Cafe staff set up one long table on the south side of the bar for us followed by excellent service.  It all worked out so nicely.  I was very glad to be part of this era and mourn the closing day as well.
Social Cultural History Report by Rita Cofield B.ARCH.
I met Rita Cofield back in late 2013 so she could interview me while a team was putting together an inch thick report that is quite costly for the new owners, the Dornins.  I loved answering Rita's questions as I loved that she loved history and, in this case, found our history so interesting.  A report already completed for Steven Udar-Hazy was on the history of the architectural design.  This new report focus on the social cultural aspects of history.  And then a third summary report was done by Jan Ostrshay in 2015, whom the city works with directly.
These reports take a long time because of the amount of in-depth research that needs to be completed.  It was some of Rita's questions that inspired me to delve into this website project.  One question she had of me was about the location of the "Coffee Pot."  I had assumed the South Seas bar was always in the lower level off Mountain Road.  Well, Rita wondered and sure enough that lower location was eventually the electric Coffee Pot in 1950.  It is always fun to discover these different details.
The biggest question on the historians' minds was documenting as accurately as possible the timeline of the gay culture.  The gay period was already recognized by the city as significant with both the current and past owner agreeing on the significance.  So it was agreed early on by both Udar-Hazy and Dornins to dedicate the period of the gay community by a plaque to hang along with other history pieces and the Smith era once development is completed.  So for those historians that are interested, I asked Rita to summarize her findings that you can read below.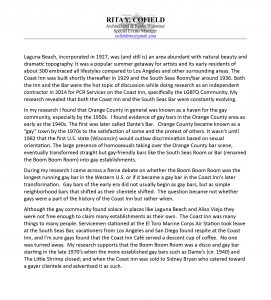 Original Three Laguna Hotels – Report
I became interested in these three hotels when I realized how related they actually are to one another.  The Camino Del Casa opened its doors February 1929 with the Coast Inn opening to the public in May of 1929.  The Hotel Laguna was remodeled from the board style to look more like these two hotels with a Spanish Colonial look.  So two years after the city incorporated, Laguna had three major hotels.  Streets were paved through town in 1926 but stopped at the Coast Inn.  Travelers from L.A. to San Diego had no choice but to travel through Laguna.  They enjoyed some paved roads; otherswise they traveled over dirt.  The Coast Inn cost about $20,000 to build while the Del Camino cost $75,000.  I am curious to find out the original cost of Hotel Laguna.
All three hotels were enjoyed by celebrities and serviceman during the 30s and 40s. The one main difference about the Coast Inn was the Smith family, who lived and worked on site everyday.  I was told that the Del Camino was only open during the summer months.  Somehow my family managed through the depression and through WWII of 1941-1945.  And somehow my family infused the love and community spirit still felt by those who spend the night.  And somehow, this hotel became internationally known.  The biggest change to all these hotels over the last 9 plus decades is the urgent need for more parking.  My dad, back in the '70s, talked about how they needed more parking.
The city's population varies along with changes like Arch Beach Heights and South Laguna, but in 1930 it was estimated at a population of 1,981.  Today I think we are in the 23,000 range.  So an extra 20,000 people live here in Laguna now with an extra 6 million a year worth of visitors.  Laguna receives a tremendous amount of high ratings in different areas.  Our artists have contributed tremendously to this town.  What I want to point out is the tri-pod idea.  These three wonderful and successful hotels have been a stool, a three legged stool, for the city to depend on which contributed to Laguna's growth for the last 88 years as of 12-2017.  I would like to propose the idea that at some point, these three hotels will need to go through a radical remodel similar to our church downtown that was originally built in 1928.  It is my wish to see all three hotels get the proper attention to detail similar to our church in town that originally cost $18,000 to build.